Each year the United Nations International Day of Peace is observed around the world on September 21st. The UN General Assembly has declared this as a day devoted to strengthening the ideals of peace through observing 24 hours of non-violence and cease-fire. We all have a role to play in fostering peace. We can work to dismantle the structures that entrench racism in our midst. We can support movements for equality and human rights everywhere. We can speak out against hate speech – both offline and online. We can promote anti-racism through education and reparatory justice.
The 2022 theme is "End racism. Build peace." Learn more here.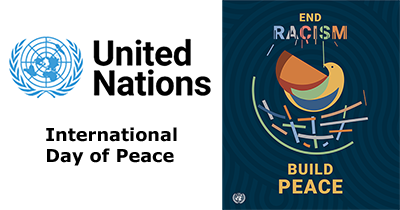 Saturday, September 17, 2022
10:00 am to 1:30 pm
Lake Chabot Regional Park
17600 Lake Chabot Road, Castro Valley, CA 94546
REGISTRATION CLOSED
Event Flyer and Directions
Event Details
This is our fifth year celebrating the UN International Day of Peace at the Park District. There will be a host of activities and reflections on the 2022 theme, End racism. Build peace. Our active collaboration and empathy is needed in these difficult times to build a world of peace, understanding, respect, equity, and safety for all peoples.

There will be a gathering around the  PEACE POLE  – a symbol of hope for Bay Area communities and peace on Earth for the global family. The 12-foot-tall Peace Pole showcases 31 languages, including Chochenyo, Nahuatl, American Sign language, and Braille. Learn more about the Lake Chabot Peace Pole.  
View highlights from event last year 2021: photos | video.
Activities: Peace messages, singing,  arts and crafts, an-hour Peace Walk alongside lake. Light lunch provided. Register for event below. 
Wear and Bring
Your favorite multicultural outfit (dress, shirt, vest, a scarf, shawl, hat, accessories)
A pen or pencil to write  down the actions you can take, personally and collectively, to end racism; build peace. We will supply the index cards.
Light jacket as temperatures may vary through the day
Comfortable walking shoes
Face mask
Sunscreen
Plenty of water (Bring your own bottle!)
Sponsors: Regional Parks Foundation and East Bay Regional Park District
Community Partners: Martin Luther King Jr. Freedom Center, Eden Area Interfaith Council, UNA East Bay Chapter, Samuel Merritt University – Ethnic Health Institute 
Our Community's Pledge for Peace
We pledge to build a just, loving, compassionate, and inclusive world that embraces diversity, including age, race, gender, ethnicities, abilities, sexual orientation, religions, and political leanings.
We pledge to see and respect each other as sisters and brothers. We welcome and value diverse cultures, faith traditions, and perspectives.
We pledge to do more listening to better understand one another - children, sisters and brothers, parents, colleagues, neighbors, and community members.
We pledge to reject violence including bullying and racism; and we stand in support of anyone or community being targeted.
We pledge to protect and heal our life-giving lands, forests, rivers, oceans, wildlife, and habitats.
We commit, every day, to do our best to be active peace builders in our schools, workplaces, communities, parks, cities, and our world. 
» 2021 UN International Day of Peace
2022 5th Annual UN International Day of Peace
Saturday, September 17
10:00 am to 1:30 pm
2022 Theme: End Racism. Build Peace.
9:30 am
to 10 am
Registered attendees check-in
10:00 am
Blowing of Shofar (ram's horn) by Diana Zankowsky, Eden Area Interfaith Council, to gather participants together and begin ceremony
10:12 am
Welcome by EBRPD Board Director Dennis Waespi. Introduces student emcees: Jennifer Hernandez and Arsema Abera.
10:16 am
Vice Chairwoman of Muwekma Ohlone Tribe of the San Francisco Bay Area Monica V. Arellano and son, Lucas Arellano
10:18 am
Regional Parks Foundation Board Member Keith White 
10:20 am
United Nations Association-USA, East Bay Chapter, Board Member Melinda Howard-Herrarte
10:22 am
Peace message, Marcel Patterson, Jr., student
10:26 am
Peace message, 

Zuri Wright

, student
10:30 am
Peace Song, "Prefer Your Brother" led by Lev Rickards and the Mighty Falcons, the Bahá'ís of Castro Valley
10:34 am
Peace message, Hatim Nooruddin, Dawoodi Bohras of San Francisco
10:36 am
Peace movements, Vince Hall, My Peak Fitness
10:38 am
Peace message, 

Izel Thoele

, student, Martin Luther King Jr. Freedom Center
10:42 am
Peace message, Yehbeen Irene Kim, student
10:46 am
Peace message, 

Angelina Thomas

, student, Martin Luther King Jr. Freedom Center
10:50 am
Peace message, Prathana Pandey, student
10:54 am
Peace movements, Vince Hall, My Peak Fitness
10:56 am
Peace message, M

argarita Sanchez

, student, Martin Luther King Jr. Freedom Center
11:00 am
Poem "We Breathe" by Zoe Dorado, student, Castro Valley High School
11:05 am
Form small groups to discuss peace actions we can take, personally and collectively, to end racism; build peace.
11:30am
Sharing from groups
11:37 am
Children share their peace drawings. Arts and crafts table supplied and supported by the  Bahá'í Community 
11:40 am
Adjourn to PEACE POLE.  Peace movements by Vince Hall. 
11:48 am
Director Dennis Waespi introduces Lake Chabot staff
11:51 am
Muwekma Ohlone Tribe of the SF Bay Area Gloria Gomez, daughters Isabella and Georgiana 
11:53am
Reading of Community's Peace Pledge
11:56 am
Group Photo
12:00 pm
Peace Song: "This Little Light of Mine" by Martin Luther King Jr. Freedom Center
12:10 pm
Lunch served after Peace Song
12:40 pm
Peace Walk led by Director Waespi 
1:30 pm
May Peace Prevail on Earth. Peace be with you till we meet again on World Peace Day 2023.